I recently needed to get some auto detailing done, and thought I'd rummage through LivingSocial.com and Groupon.com to find any auto-detailing deals in the area. I went with Groupon. What a mistake. They don't seem to vet the vendors at all.
The Public Deal Page
Here's the public front page of the deal I purchased: https://www.groupon.com/deals/detail-auto. Since that URL will cycle through different deals, here's a photo of what you'll see at the time this post was written: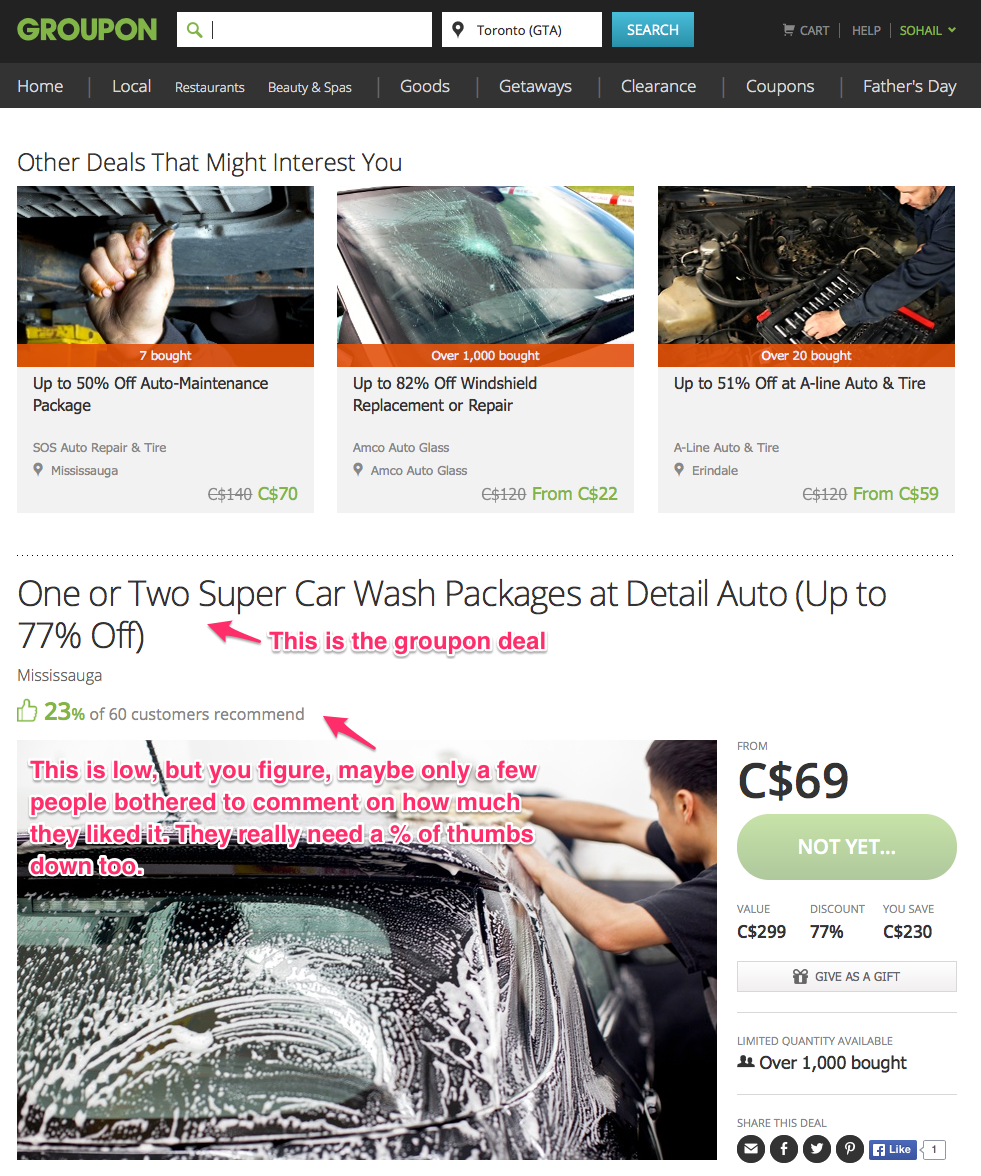 Sure, there's only 23% of who chimed in with a thumbs up, but perhaps most people just don't bother giving feedback. After all, there are no thumbs down ratings visible here.
The Publicly Visible Testimonials
Let's look at the publicly visible testimonials for this deal. The three testimonials look really positive. You can't glean anything negative about this vendor.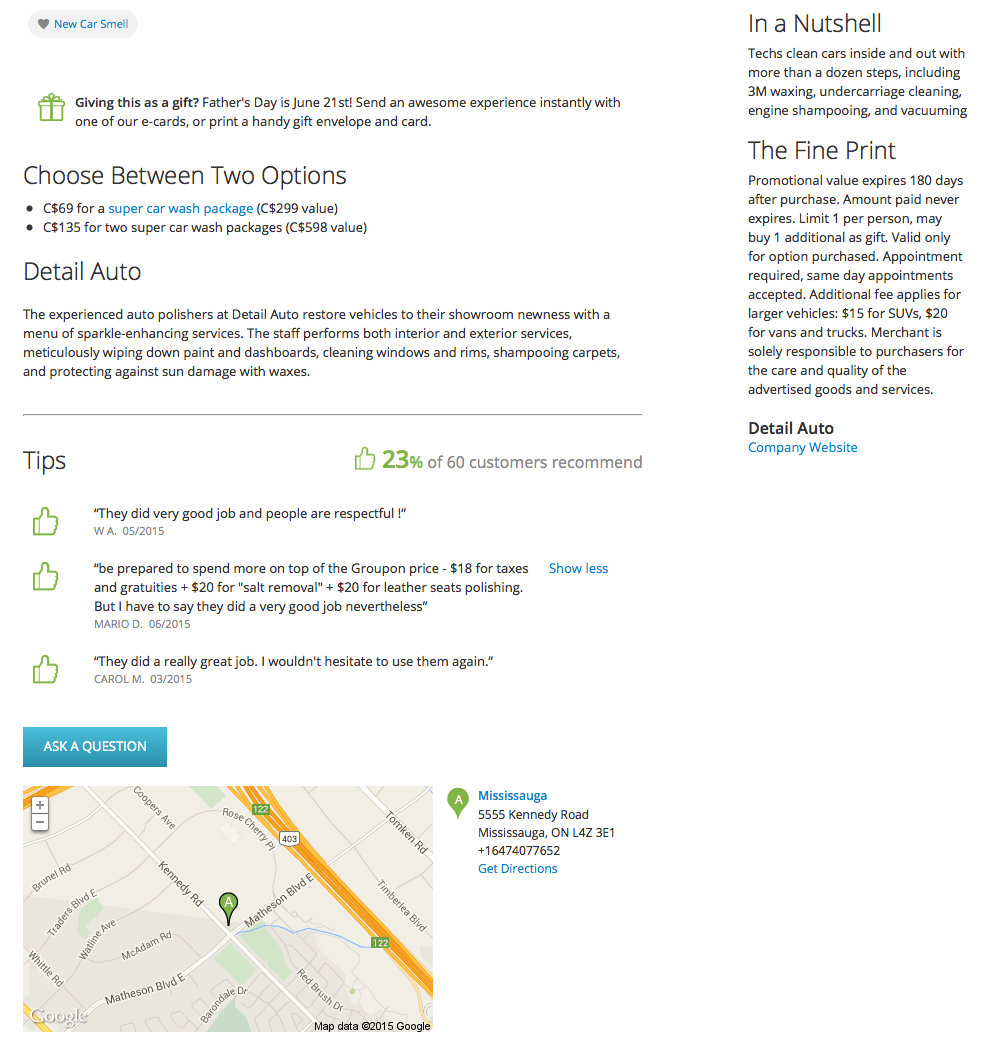 The Post-Purchase Visible Reviews
Now that I've purchased, the page I can access for this deal gives me access to all reviews. Surprise surprise. These guys have a horrendous reputation. See below. Not a single positive review on the first page. The only good reviews are right at the beginning, and very short. Suspect.
Why does Groupon have a thumbs up icon next to each of these reviews when they are all bad reviews?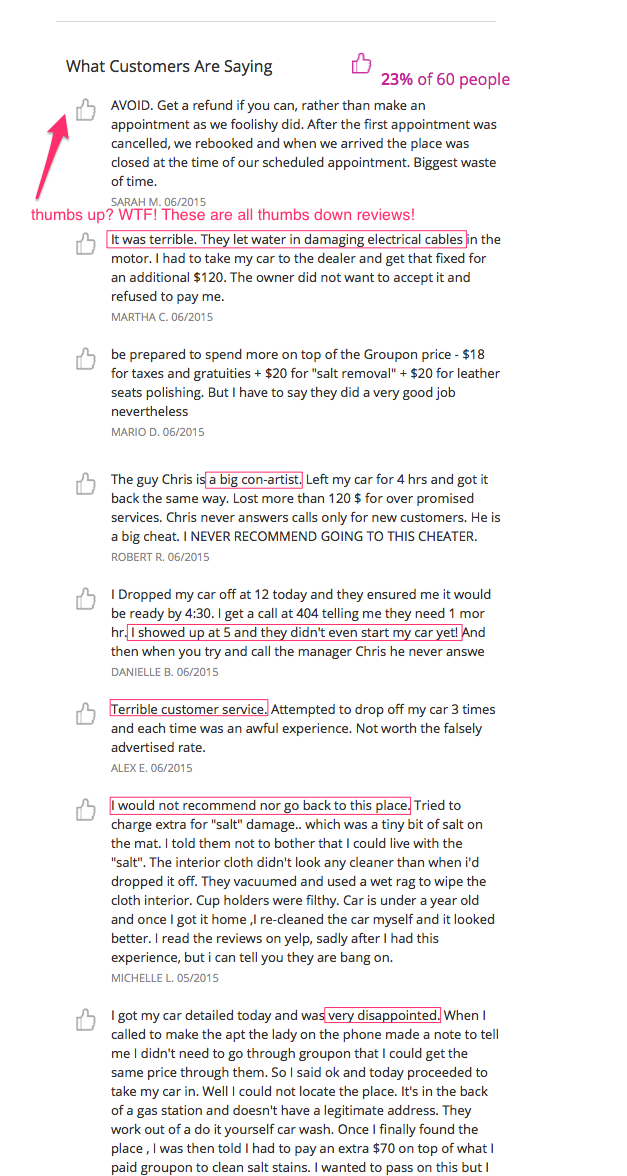 No Refund Contact-Us Link Available
Since I purchased the deal about 5 days ago, I'm outside the window of requesting a refund. There's no button on the Groupon website to do so. I can't find a phone number to call. There's no one I can email. I keep going in circles trying to find a support link that will let me contact someone with a human brain, instead of getting looped through "read this policy" and "read these fine print details". Nothing. No way to reach a real human being and have a conversation.
I'm not comfortable taking an expensive vehicle to a shoddy place with water damage reviews like this.
Lesson learned: be weary using Groupon.
Epilogue
I finally find a way to chat with a human agent by stating that I couldn't get in touch with the vendor (which is true; I just tried calling and their voicemail box is full). I've got a refund in 'Groupon Bucks', but I'll be sure to use those in more established businesses, if I can even find such deals.